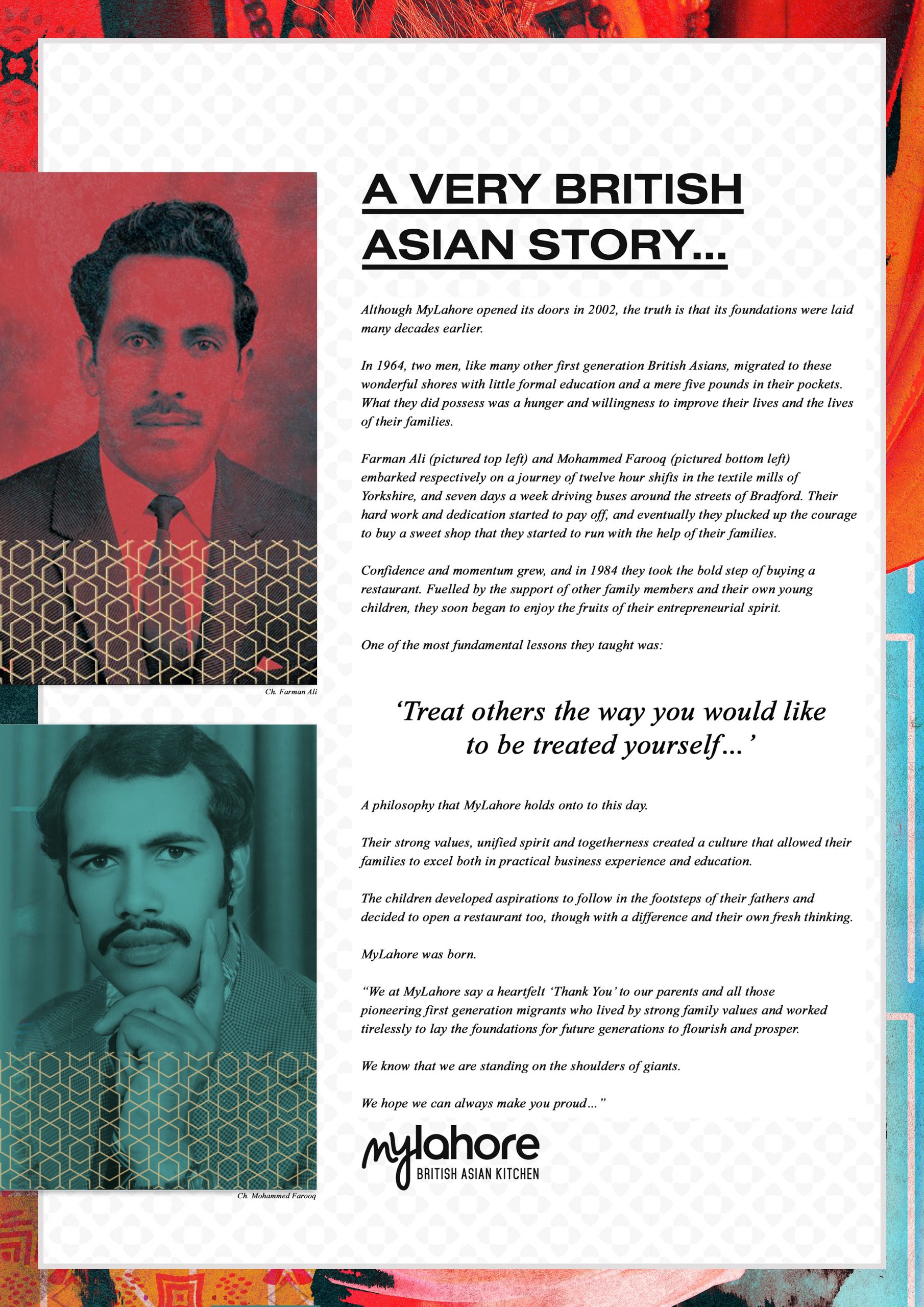 CLOSE

Food Information
All our food is 100% halal
All meat and poultry is sourced from British and Irish farms meeting set standards of food safety, animal welfare and environmental protection
As all our meat and poultry is sourced from UK and Irish farms they are delivered to us fresh and never frozen
To give you the best taste all our grill items are marinated for 24 hours using our special recipe
Our marinade contains no artificial preservatives or colourants and no artificial flavours, giving it a totally natural and healthy taste
All our burgers and steaks are grilled to order resulting in reduced fat content
We use minimal amounts of salt in all our recipes
Do you take bookings?
We love a good party, as do our customers! All of our restaurants are unique, and as such they have different booking policies. If you would like to find out if your local MyLahore takes bookings we recommend contacting them directly and speaking to the manager on duty.
How can I get a job at MyLahore?
We're always looking for fun loving people who share our passion for MyLahore, to join our team click here to fill out an application.
Do you have a loyalty card?
Yes the MyLahore Loyalty Scheme is our little way of saying thanks. For every £1 you spend, we'll award you with 10 points, with each point being worth a penny. Use your points to enjoy a full range of food and drinks from the menu. Click here to register.
PLEASE NOTE
Customers can continue to use and earn MyLahore Rewards on collection and dine-in at all stores, and telephone delivery orders (Bradford Delivery, Leeds and Manchester only), though no longer for online delivery orders. Online delivery orders (all handled by Uber Eats) will benefit from Uber Eats rewards and loyalty initiatives!
Do you do outdoor catering?
How does online delivery ordering work?
What's new?
MyLahore is launching an exciting new partnership with Uber Eats regarding online delivery ordering – Uber Eats will be handling ALL online delivery orders for ALL MyLahore stores.
Do I need to do anything different?
Not really! To order delivery online continue to visit mylahore.co.uk or the MyLahore app – we'll automatically transfer you to our UberEats store which is super-easy to use!
How will this benefit customers?
Faster delivery speed
Real-time delivery tracking
Convenient checkout
Uber Eats Loyalty & rewards
How about telephone delivery and collection orders?
Delivery orders can still be placed directly with MyLahore at all stores online or by telephone at Bradford Deli, Leeds and Manchester only. Collection orders can still be placed directly with MyLahore at all stores online or by telephone.
What's happening with Rewards?
Customers can continue to use and earn MyLahore Rewards on collection, dine-in and telephone delivery orders (see above), though no longer for online delivery orders. Online delivery customers will benefit from Uber Eats rewards & loyalty initiative!
How far do you deliver?
Although we can appreciate your nearest MyLahore may not be on your doorstep unfortunately we can only deliver within a 3 mile radius –this enables us to deliver piping hot food on time every time… or you can do what one of our loyal customers did and move closer to us.
Where do you get your cakes from?
We have our own in house bakery and expert pastry chefs.
Do you do celebration cakes?
Our expert pastry chefs can make a variety of spectacular celebrations cakes for all occasions so all you need to do is Click here
Do you offer student discounts?
Do you offer NHS/Police/Fire service Discount?
Can I buy vouchers and/or gift cards?
What is your policy on refunds?
We endeavour to get your order right first time every time, to our exceptionally high standards. On the rare occasion we don't we will look at rectifying the situation amicably. As every situation is different, the manager will use his/her discretion and judgment to resolve the problem.
Do you have disabled parking, disabled access and disabled toilets?
Yes we do, please call the relevant branch.
Do you have prayer facilities?
Yes all our branches have a prayer room.
Do you have baby changing facilities?
Yes but just in our restaurants.
Do you take payments over the phone?
No / you can order online to pay online via credit/debit card (using a non-mobile device).
Do you take card payment in branches?
Yes, all branches accept card payments.
Do your prices include VAT?
All prices are inclusive of VAT.
Do you sell alcohol? Can we bring our own?
Do you offer gluten-free items on the Menu?
Please view our allergen information here
Is the oil you use suitable for vegetarians?
Yes. We use Vegetable and Olive Oil across all MyLahore branches.
Do you use GM (Genetically Modified) Products?
Do you use MSG (Monosodium glutamate) flavour enhancer in your ingredients?
No – although some ingredients we buy may contain traces of it.
Do you use Pasteurised egg in any of your products?
If there's egg in the ingredients of a certain product, it'll be pasteurised – it's the only way to use eggs safely.
What vegetarian options do you have?
We have a wide range of delicious vegetarian options- too many to list here! Please refer to our menu and look out for the 'V'.
Do MyLahore participate in charity events?
As a family run organisation we believe helping is an important part of our business and although we endeavour to help everyone sometimes this is not possible. We do however ask all charities to send us an email detailing what it is you do and what you require from MyLahore and we look into it on case by case circumstance. Please email [email protected] to find out more.
Do you do franchises?
No, We are a family run organisation that is opening branches across the United Kingdom but it could be a possibility to offer franchising opportunities in the near future.
Cant find the information you were looking for? Get in touch
CLOSE

CLOSE

No genetically modified ingredients used
Farmed in the UK
All meat and poultry is sourced from British Farms meeting the highest standards of food safety, animal welfare and environmental protection. This means our chicken and meat is not only tasty, but also happy and healthy.
Delivered fresh never frozen
As all our chicken and meat are sourced from UK farms they are delivered fresh and never frozen to our stores
Marinated for 24 hours in our special home-made marinade
To give you the best taste all our chicken and meats are marinated for 24 hours in our special sauce
Our marinade contains no preservatives, no colourants and no artificial flavours to give it a totally natural and healthy taste
Flame grilled never fried
All our burgers and steaks are grilled to order on an open flame grill resulting in reduced fat content
We use semi skimmed milk in all products (unless otherwise stated)
We use organic eggs where possible
We use minimal amounts of salt in all our recipes
HEALTHY EATING AT MYLAHORE - healthy eating and weight loss do not have to mean deprivation! We pride ourselves on the quality of our ingredients and our recipes are as healthy as we can make them
Cant find the information you were looking for?
Get in touch
CLOSE

At MyLahore we're all about respect and putting others first – and that goes way beyond providing food and service that wows our customers.
We work with a number of special groups and charities in the UK and overseas that are close to our hearts. It means we can 'give something back', and make sure that part of what we earn goes towards helping different communities around the world.
We have started a project called 'MyCommunity'. The below three key areas list just some of the organisations and projects that have benefited from our 'care and share' philosophy:
Charity (local, national and international)
We receive a huge volume of requests for raffles, prize draws other charitable activities. We are humbled to you for your fabulous efforts in raising money for some fantastic causes.
We would love to help everyone; so that we can give your request due attention, please click here to submit a charity request.
We are committed to supporting great causes that fit with our company values and heritage.  We will consider every request and will respond within 7 days if there is some way in which we can support you.
If you are fundraising for a school we will also need a letter of authentication from the head teacher of the school you are fundraising for, on their official letter headed paper, and if you are supporting a charity we will also need a letter of authentication from the relevant charity.
We involve ourselves with supporting charitable organisations and projects as much as we can; below is a list of what and who we have helped so far:
Homeless projects in Bradford with Almaghrib (a non-profit organisation that supports and teaches Muslims in the UK, USA and Canada) and Salvation Army
Soup Kitchens
Supporting charitable organisations by providing resource and food to enable them to generate funds National projects
Three peaks
Cancer Research UK
Peacemaker International
Sport Relief
Mosaic
Human Appeal
Penny Appeal
Amir Khan foundation
Local schools/clubs
Local sports teams
British Muslim heritage centre
Bradford Council Marley football festival
Student societies
Education (various)
We work with various pre-schools, secondary schools, colleges and university supporting programmes in Bradford, Leeds and beyond in the following:
Mentoring
Project support
Work experience
Work placements sponsorships
Supporting annual fun days school tournaments
Sports (local and national)
We support multiple local and national sporting organisations and events such as:
Saltaire Cricket Club & PHAB; supporting kids with disabilities to enjoy life together!
Bradford Diving Club
Bradford Jets
Horton Grange Cricket Club Horton Foxes
College Badminton Tournament
Jujitsu Club
Pakistan vs. Bradford Park Avenue game
The visit of the Indian rugby team
Sponsoring District wide Bradford council footy festival for all schools
Environment – minimising our impact low emission vehicles
Cycling to work
Recycling waste
Economy – volunteering, mentoring, supporting
Mentoring new business start-ups
Apprenticeships
Work experience
Buying locally
If you have a local project that you feel may be of interest to us, please email

[email protected]

 or click here to request sponsorship.
CLOSE

Welcome to our website. If you continue to browse and use this website, you are agreeing to comply with and be bound by the following terms and conditions of use, which together with our privacy policy govern our relationship with you in relation to this website. If you disagree with any part of these terms and conditions, please do not use our website.
The term MyLahore or 'us' or 'we' refers to the owner of the website whose registered office is 348 Great Horton Road, Bradford, BD7 1QJ. Our company registration number is "". The term 'you' refers to the user or viewer of our website.
The use of this website is subject to the following terms of use:
The content of the pages of this website is for your general information and use only. It is subject to change without notice.
This website uses cookies to monitor browsing preferences. If you do allow cookies to be used, the following personal information may be stored by us for use by third parties.
Neither we nor any third parties provide any warranty or guarantee as to the accuracy, timeliness, performance, completeness or suitability of the information and materials found or offered on this website for any particular purpose. You acknowledge that such information and materials may contain inaccuracies or errors and we expressly exclude liability for any such inaccuracies or errors to the fullest extent permitted by law.
Your use of any information or materials on this website is entirely at your own risk, for which we shall not be liable. It shall be your own responsibility to ensure that any products, services or information available through this website meet your specific requirements.
This website contains material which is owned by or licensed to us. This material includes, but is not limited to, the design, layout, look, appearance and graphics. Reproduction is prohibited other than in accordance with the copyright notice, which forms part of these terms and conditions.
All trademarks reproduced in this website, which are not the property of, or licensed to the operator, are acknowledged on the website.
Unauthorised use of this website may give rise to a claim for damages and/or be a criminal offence.
From time to time, this website may also include links to other websites. These links are provided for your convenience to provide further information. They do not signify that we endorse the website(s). We have no responsibility for the content of the linked website(s).
Your use of this website and any dispute arising out of such use of the website is subject to the laws of England, Northern Ireland, Scotland and Wales.
1. Placing an order on our sites
By placing an order through our site, you agree that you are legally capable of entering into binding contracts and are at least 18 years old. After placing an order for our Products, you will receive an e-mail from us acknowledging that we have received your order. This does not mean that your order has been accepted by us but it does constitute an offer to us to buy the Product. All orders are subject to acceptance by us.
2. Availability and delivery
Minimum delivery time is 45 minutes, unless there are exceptional circumstances. If we have insufficient stock of a Product, you will be notified of this as soon as possible after your order has been received. You will be given the opportunity to wait until the Product is back in stock or cancel your order and secure a refund in accordance with the appropriate terms and conditions of this policy.
3. Risk and title
The Products will be at your risk from the time of delivery. Ownership of the Products will only pass to you when we receive full payment of all sums due in respect of the Products, including delivery charges.
4. Price and payment
The price of our products is the price in force on the date and at the time on which we process your order. We make every effort to ensure that the prices on our website are accurate. Nevertheless, as our sites contain a large number of Products it is always possible that, despite our best efforts, some of the Products listed on our site may be incorrectly priced. We will normally verify prices as part of our dispatch procedures and the price quoted on the website will be the price you pay. However we are under no obligation to provide the Product to you at an incorrect lower price quoted on our website, even after we have sent you a Dispatch Confirmation, if the pricing error is obvious and unmistakable and could have reasonably been recognised by you as a mis-pricing. All prices and delivery costs (which will be added to the total amount due as set out in our Delivery). Payment for all Products must be by credit, debit card or cash on delivery. We accept payment with Visa, MasterCard, Visa Debit, Solo and Maestro. Your card is pre-authorised at the time of making your order, with the payment being taken from your card at the end of the working day on which you make your order.
5. Our right to vary these terms and conditions
We may amend these terms and conditions at any time and any revised version will be effective immediately that it is displayed on our sites. You will be subject to the policies and terms and conditions in force at the time that you order Products from us, unless any change to those policies or these terms and conditions is required to be made by law or governmental authority (in which case it will apply to orders previously placed by you).
6. Language
This agreement is drafted in the English language. If this agreement is translated into any other language, the English language text shall prevail.
7. Law and jurisdiction
Contracts for the purchase of Products through our site will be governed by English law. Any dispute arising from, or related to, such Contracts shall be subject to the non-exclusive jurisdiction of the courts of England and Wales.
8. Age restrictions
Minimum age limit is 18 year or over to place an order online.
9. Return, refund, cancellation
To return, refund or cancel an order you have to ring respective store, and store manager will decide if he want to return, refund or cancel your order after proper examination. Managers decision will be final and irrevocable. Orders can be cancelled within 10 minutes of placing your order. Returns only accepted if product delivered to you is not as per description on our website or menu. In case of refund, money will be refunded to same account you used to pay for your order and it can take up to 7 working days to refund.
CLOSE

Overview
Maintaining the security of your data is a priority at MyLahore, and we are committed to respecting your privacy rights. We pledge to handle your data fairly and legally at all times. MyLahore is also dedicated to being transparent about what data we collect about you and how we use it.
This notice, which applies whether you visit our stores, use your mobile device or go online, provides you with information about:
how we use your data;
what personal data we collect;
how we ensure your privacy is maintained; and
your legal rights relating to your personal data.
How we use your data
General
MyLahore group uses your personal data:
to provide goods and services to you;
to make a tailored website available to you;
to verify your identity;
for crime and fraud prevention, detection and related purposes;
with your agreement, to contact you electronically about promotional offers and products and services which we think may interest you;
anonymously for market research purposes – to better understand your needs;
to enable MyLahore to manage customer service interactions with you; and
where we have a legal right or duty to use or disclose your information (for example in relation to an investigation by a public authority or in a legal dispute).
Promotional Communications
MyLahore uses your personal data for electronic marketing purposes (with your consent) and may send you postal mail to update you on the latest MyLahore offers.
MyLahore aims to update you about products & services which are of interest and relevance to you as an individual.
You have the right to opt-out of receiving promotional communications at any time, by:
changing marketing preferences via your MyLahore account;
making use of the simple "unsubscribe" link in emails or the "NOTXT" number for texts; and/or
contacting MyLahore via the contact channels set out in this Notice.
Our service providers and suppliers
In order to make certain services available to you, for example online purchasing, we may need to share your personal data with some of our service partners. These include IT, delivery and marketing service providers.
MyLahore only allows its service providers to handle your personal data when we have confirmed that they apply appropriate data protection and security controls. We also impose contractual obligations on service providers relating to data protection and security, which mean they can only use your data to provide services to MyLahore and to you, and for no other purposes.
Our service providers and suppliers
Aside from our service providers, MyLahore will not disclose your personal data to any third party, except as set out below. We will never sell or rent our customer data to other organizations for any purpose.
We may share your data with:
 IT suppliers in order to provide online ordering and payment services:
 governmental bodies, regulators, law enforcement agencies, courts/tribunals and insurers where we are required to do so: –
to comply with our legal obligations;
to exercise our legal rights (for example in court cases);
for the prevention, detection, investigation of crime or prosecution of offenders; and
for the protection of our employees and customers.
What personal data we collect
MyLahore may process the following information about you:
Website Cookies
your name, age/date of birth and gender;
your contact details: postal address including billing and delivery addresses, telephone numbers (including mobile numbers) and e-mail address;
purchases and orders made by you;
your on-line browsing activities on MyLahore websites;
your password(s) for our website;
when you make a purchase or place an order with us, your payment card details;
your communication and marketing preferences;
your interests, preferences, feedback and survey responses;
your correspondence and communications with MyLahore; and
 other publicly available personal data, including any which you have shared via a public platform (such as a Twitter feed or public Facebook page).
Our websites are not intended for children and we do not knowingly collect data relating to children.
Google Analytics
When someone visits www.mylahore.co.uk we use a third-party service, Google Analytics, to collect standard internet log information and details of visitor behaviour patterns. We do this to find out things such as the number of visitors to the various parts of the site. This information is only processed in a way which does not identify anyone. We do not make, and do not allow Google to make, any attempt to find out the identities of those visiting our website.
Wi-Fi
When you use MyLahore Guest Wi-Fi we may collect data about:
Your device;
The volume of data which you use;
The websites and applications which you access; and
Your usage by access time, frequency and location.
Mailing Lists
As part of the registration process for our monthly e-newsletter, we collect personal information. We use that information: to tell you about stuff you've asked us to tell you about; to contact you if we need to obtain or provide additional information; to check our records are right and to check every now and then that you're happy and satisfied. We don't rent or trade email lists with other organisations and businesses.
We use a third-party provider, Stempede, to deliver our newsletter. We gather statistics around email opening and clicks using industry-standard technologies to help us monitor and improve our e-newsletter. For more information, please see Stampede's privacy notice. You can unsubscribe to general mailings at any time by clicking the unsubscribe link at the bottom of any of our emails or by emailing our Data Protection Officer [email protected]
Online Order Data
When you purchase merchandise, membership or gift voucher(s) through Landline, Mobile or online your name, address data, email and contact number will be stored in our Back-Office System. You may, of course make a purchase in person without supplying the aforementioned personal data. Please be assured that we do not share your personal details with any other company without your consent.
Call Recording
Telephone order calls are recorded for quality and training purposes to ensure that MyLahore maintains its standards of customer service excellence.
How long do we keep your data?
We will not retain your data for longer than necessary for the purposes set out in this Notice. Different retention periods apply for different types of data, however, the longest we will normally hold any personal data is 5 years.
How we protect your data
Our controls
MyLahore is committed to keeping your personal data safe and secure.
Our security measures include: –
encryption of data;
regular cybersecurity assessments of all service providers who may handle your personal data;
regular scenario planning and crisis management exercises to ensure we are ready to respond to cybersecurity attacks and data security incidents;
Regular penetration testing of systems;
security controls which protect the entire MyLahore IT infrastructure from external attack and unauthorised access; and
internal policies setting out our data security approach and training for employees.
What you can do to help protect your data
MyLahore will never ask you to confirm any bank account or credit card details via email. If you receive an email claiming to be from MyLahore asking you to do so, please ignore it and do not respond.
If you are using a computing device in a public location, we recommend that you always log out and close the website browser when you complete an online session.
In addition, we recommend that you take the following security measures to enhance your online safety both in relation to MyLahore and more generally:
keep your account passwords private. Remember, anybody who knows your password may access your account.
when creating a password, use at least 8 characters. A combination of letters and numbers is best. Do not use dictionary words, your name, email address, or other personal data that can be easily obtained. We also recommend that you frequently change your password.
avoid using the same password for multiple online accounts.
Legal basis for MyLahore processing customer personal data
General
MyLahore collects and uses customers' personal data because is it necessary for:
us to complete our contract with you to provide goods and services:
the purposes of complying with our duties and exercising our rights under a contract for the sale of goods to a customer; or
complying with our legal obligations.
In general, we only rely on consent as a legal basis for processing in relation to sending direct marketing communications to customers via email or text message.
Customers have the right to withdraw consent at any time. Where consent is the only legal basis for processing, we will cease to process data after consent is withdrawn.
Loyalty Reward Scheme
Customers joining our Loyalty Reward Scheme will be asked to consent to receive marketing communications via email or text message. This consent can be withdrawn at any time without affecting the Loyalty Reward Scheme benefits.
Access to your personal information
You are entitled to view, amend, or delete the personal information that we hold. Email your request to our Data Protection Officer [email protected]
Cookies
What are cookies?
Like most websites, MyLahore websites use cookies to collect information. Cookies are small data files which are placed on your computer or other devices (such as smart 'phones or 'tablets') as you browse this website. They are used to 'remember' when your computer or device accesses our websites. Cookies are essential for the effective operation of our websites and to help you shop with us online. They are also used to tailor the products and services offered and advertised to you, both on our websites and elsewhere.
Information collected
Some cookies collect information about browsing and purchasing behaviour when you access this website via the same computer or device. This includes information about pages viewed, products purchased and your journey around a website. We do not use cookies to collect or record information on your name, address or other contact details. MyLahore can use cookies to monitor your browsing and purchasing behaviour with ourselves.
How are cookies managed?
The cookies stored on your computer or other devices when you access our websites are designed by:
MyLahore, or on behalf of MyLahore, and are necessary to enable you to make purchases on our website; and
the display of advertisements for MyLahore offers on our web pages.
How do I disable cookies?
If you want to disable cookies you need to change your website browser settings to reject cookies. How you can do this will depend on the browser you use. Further details on how to disable cookies for the most popular browsers are set out below: –
For Microsoft Internet Explorer:
1. Choose the menu "tools" then "Internet Options"
2. Click on the "privacy" tab
3. Select the setting the appropriate setting
For Google Chrome:
1. Choose Settings> Advanced
2. Under "Privacy and security," click "Content settings".
3. Click "Cookies"
For Safari:
1. Choose Preferences >Privacy
2. Click on "Remove all Website Data"
For Mozilla Firefox:
1. Choose the menu "tools" then "Options"
2. Click on the icon "privacy"
3. Find the menu "cookie" and select the relevant options
For Opera 6.0 and further:
1. Choose the menu Files"> "Preferences"
2. Privacy
What happens if I disable cookies?
This depends on which cookies you disable, but in general, the website may not operate properly if cookies are switched off. If you only disable third party cookies, you will not be prevented from making purchases on our sites. If you disable all cookies, you will be unable to complete a purchase on our sites.
Contact Information
If you have any questions about how MyLahore uses your personal data that are not answered here, or if you want to exercise your rights regarding your personal data, please contact us by any of the following means:
phone us on 01274 952111;
e-mail us at [email protected] or
write to us at MyLahore, Unit 21B Whetley Mills, Thornton Road, Bradford, UK, BD8 8LQ
You have the right to lodge a complaint with the Information Commissioner's Office. Further information, including contact details, is available at https://ico.org.uk.
Changes to this Privacy Notice
This Notice was last updated in May 2018.